Luggage Room Cafe
【About the size of luggage】
・Large size: total dimensions (length+height+width) must be within 200cm
・Small size: total dimensions (length+height+width) must be within 115cm
【Luggage room cafe new services】
・Order can be received out of business hour now! If you contact with us in advance.
(We are now able to arrange parties on weekends like Friday, Saturday and Sunday and the store remain opens till 22 o'clock everyday).
・Takkyubin's reservation is also possible.
・No restriction for size (Bicycle can bring directly before reservation)
・You can take rest before and after at the time of depositing your luggage and finding your accommodation.
【About the luggage room cafe】
The luggage room cafe is located just a step up the A1 elevator of Toei Asakusa line / Asakusabashi station facing Edo street.
It is one minute walk from JR Asakusabashi station.
Both Haneda International Airport and Narita International Airport, you can access to the luggage room cafe without any train transfer or without any stairs. It is just an ideal location for international airport users.
First of all, we would like you to stop by here to get some useful information for sightseeing, so that you can enjoy it without any waste of time.
We would like you to move aroud not only Tokyo but local attractions without borthering by your luggage.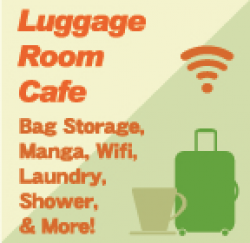 Book Now